Icaro Rebar Bending Equipment
Icaro is an advanced rebar machinery company located in Italy, where they design and manufacture high quality rebar bending equipment for the construction and mining industry.
These tools are used around the world in high production factory and remote on-site environments for the construction and rebar manufacturing industries.
Icaro TP38/45 Rebar Bender & Cutter Combo

This rebar cutter/bender are capable of bending rebar at 45mm and cutting 38mm diameter with ease.

They are suitable for carrying out work on construction sites where a rebar production machine is required, or for high production cutting and bending applications in fabrication workshops.

Icaro rebar benders are manufactured in Italy and used by:
Large international building firms
Industrial complexes and government institutions
Cement factories
Petrol companies
SMEs within both the civil and industrial building fields.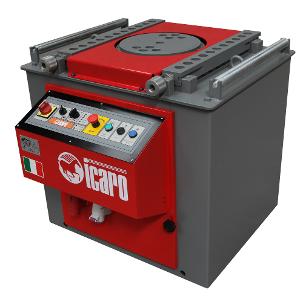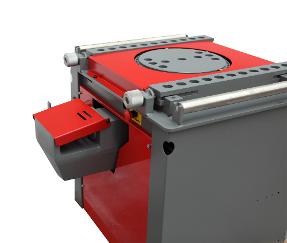 Icaro P55 Rebar Bender - Special
Model P55 rebar benders have been designed with electronic pre-set controls for up to 10 programmed angles for multiple bending applications. Standard models have a pre-set range for up to 5 program settings.

Specifications of Icaro P55 rebar benders include:
Max. output bending force of 7.5Hp
Max. size rebar 55mm Dia @ 45 kg /sqmm
Weight 800Kg.
Choosing the right rebar bending machine or combination bender/cutter for a given application is important to ensure productivity and reliability. This unit is ideally used for working on:
Slab floors and industrial floors
Parking structures and highway construction
Residential, industrial and commercial buildings
Mining infrastructure
Storage tanks for coal, grain, water, chemicals, LNG and water construction
Nuclear containment structures; and
Pre-stressed and pre-tensioning concrete work.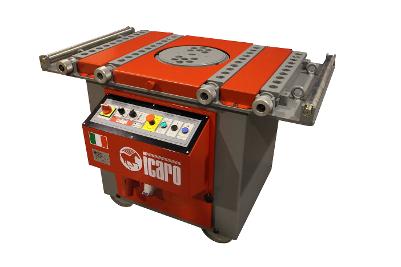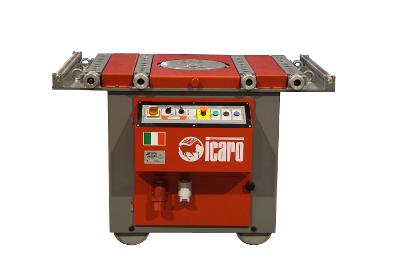 © Copyright 2014 - Stainelec Hydraulic Equipment
All Logos & Images Remain the Property of Their Respective Owners