A Jack of all trades for any rapid response rescue scenario...
Stainelec Rescue Equipment offers the Ogura HRS cordless rescue system which features a portable, lightweight and compact tool that offers an extremely versatile series of cutting, spreading and forced entry tools.
Featuring a modular design, the HRS system allows users to select only those tools suitable to their desired task and application. Ogura HRS cordless rescue systems feature a 'closed' hydraulic system that minimises maintenance and servicing during the tools lifespan.
HRS Combi Tool System Key features:
Powered by a Makita 18Volt Li-Ion battery & motor

Interchangeable head system offers flexibility and ease of use for cutters, spreaders and jack cylinders

Cordless hydraulic pump has excellent output performance

Connection of hydraulic pump by hoses or directly to the pump

Enables immediate response for rescue operation

Very low maintenance and servicing

New larger capacity pump allows for raised height for door opening attachment

Extensively used by police, fire and military agencies around the world

Designed & precision made in Japan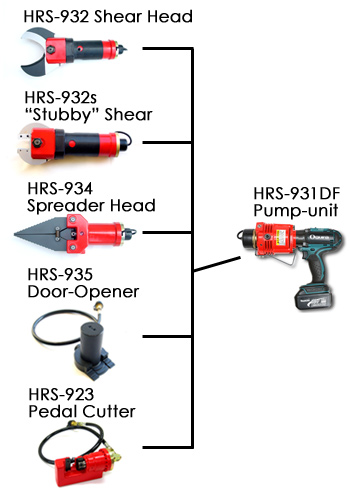 © Copyright 2020 - Stainelec Hydraulic Equipment
All Logos & Images Remain the Property of Their Respective Owners