Available from Stainelec is the Cactus XP-3 universal flexible head puncher. This portable hydraulic hole puncher is powerful and capable of punching holes in 2mm stainless steel and 3.2mm mild steel sheetmetal.
Punch & die sets to suit the Cactus XP-3 are designed & manufactured to a high quality to provide strong resistance against wear, especially when working with high grade stainless steel material.
Cactus XP-3 Flexible Head Hole Puncher
Max. Punching Capacity: 2mm Stainless Steel
3.2mm Mild Steel
Max. Punching Force: 5.5 Tons
Dimensions (Length): 410mm
Weight: 3Kgs
Cactus Electricians Kit:
1 XP-3 Flexible Hydraulic Puncher Body
7 Round Punch & Die Sets; 16.3, 20.2, 22.5, 25, 32.2, 40 & 50mm
2 Piston Shafts to Suit Punch & Die Sets
1 Heavy Duty Steel Carry Case
Key Features of the Cactus XP-3 Hydraulic Hole Punchers;
- Universal flexible head offers the operator more flexibility to punch holes in confined situations for control panel work
- Special purpose die sets are available to suit applications for multi point D-sub connectors and key locks
- XP-3 puncher unit can punch round, square and rectangular size holes
- Provides a clean hole to finished painted products
- Boasts a lightweight & portable design
- Designed & precision manufactured in Japan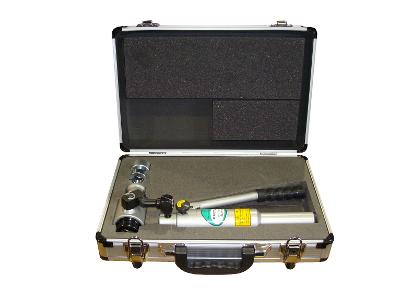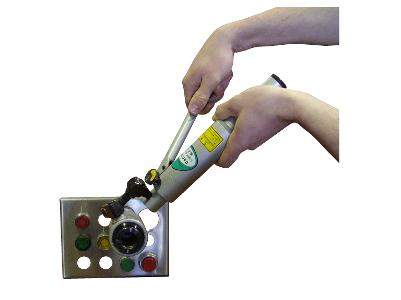 Cactus EVK-100 Cordless Hole Puncher
Max. Punching Force: 7.5 Ton
Max. Punching Cylinder Stroke: 25mm Punching Stroke
Max. Material Thickness: 3.2mm Mild Steel
2.4mm Stainless Steel
5mm Aluminium
Motor: Panasonic 14.4 Volt / 4.2Amp Hour Battery
Available Sizes (Punch & Die Sets): 15.2-115mm Round
50 x 50mm Square
Dimensions (L) x (W) x (H): 440 x 230 x 70mm
Weight: 7Kgs
The Cactus EVK-100 Cordless Hole Punch is designed to punch through 3.2mm mild steel, 2.4mm stainless steel & 5mm aluminium material in any working position for on-site or high production applications.
The EVK-100 punching head is powered by a reliable Panasonic 14.4V Li-Ion 4.2 amp hour battery & motor which requires minimal effort to operate and provides a professional finish with no burr to the work piece after every operation.
This unit has been supplied to the global construction & manufacturing markets and continues to be used by ship building, switchboard, plumbing, electrical, automotive and aviation industries around the world.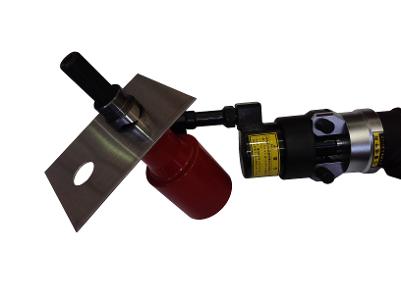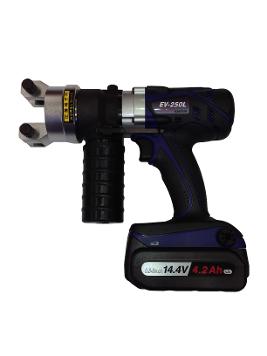 © Copyright 2014 - Stainelec Hydraulic Equipment
All Logos & Images Remain the Property of Their Respective Owners