Italian designed & made rebar benders for the modern worksite...
Edilgrappa adopts flexibility and innovation as a priority for every project they are focused on. For the toughest jobs in the worst environmental conditions you can depend on Edilgrappas range of cordless, petro & electric hydraulic rebar benders.
Since 1976 Edilgrappa has been developing and manufacturing high quality hydraulic bending equipment for the construction, concreting & mining industries. Stainelec Hydraulic Equipment are the Australian Agents for Edilgrappa.
MU16P Electric Hydraulic Rebar Bender
Features;
Max. Bending Capacity: 16mm Diameter
Max. Bending Angle: 90 Degrees
Max. Hydraulic Pressure: 380 Bar
Max. Bending Force: 10 Ton
Motor: 230 Volt / 50Hz Double Insulated Motor
Weight: 12kgs
Dimensions (L) x (W) x (H): 500 x 120 x 230mm
Made In Italy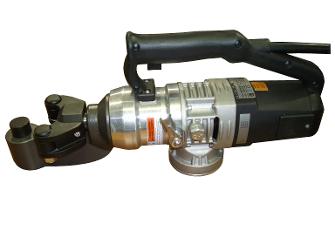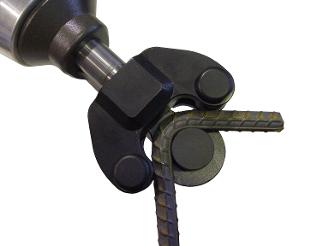 MU16P Cordless Hydraulic Rebar Bender
Features;
Max. Bending Capacity: 16mm Diameter
Max. Bending Angle: 90 Degrees
Max. Hydraulic Pressure: 400 Bar
Max. Bending Force: 10.5 Ton
Weight: 10.7Kgs
Dimensions (L) x (W) x (H): 560 x 125 x 370mm
Made In Italy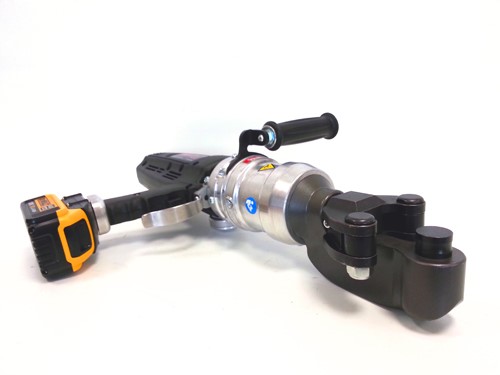 PR32 Electric Hydraulic Rebar Bender
Features;
Max. Bending Capacity: 32mm Diameter
Max. Bending Angle: 90 Degrees
Max. Hydraulic Pressure: 550 Bar
Max. Bending Force: 15.5 Ton
Motor: 230 Volt Electric Motor
Weight:24.4kgs
Dimensions (L) x (W) x (H): 601 x 294 x 229mm
180 Degree Rotatable Bending Head
Made In Italy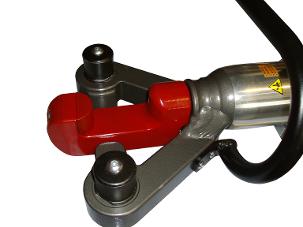 PR16-32 Electric Hydraulic Rebar Bender with Radius Bending Head
Features;
Max. Bending Capacity: 16mm - 32mm Diameter
Bending Head Sizes Available: 16, 20, 25, 28 & 32mm
Max. Bending Radius: 90 Degrees
Max. Hydraulic Pressure: 550 Bar
Max. Bending Force: 15.5 Ton
Motor: 230 V Electric Motor (Also Available in 120V/60Hz)
Weight: 22Kgs
Dimensions (L) x (W) x (H): 570 x 270 x 225mm
Made In Italy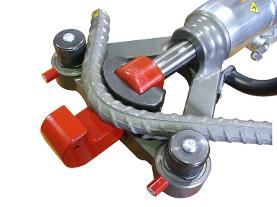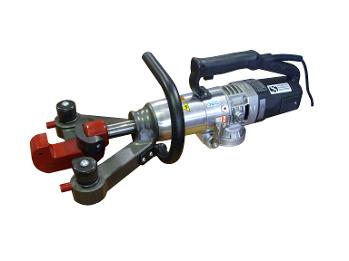 P22 Bending Head/MU22N Electric Body
(Features an Interchangeable Head System)
Specifications;
Max. Bending Capacity: 22mm Diameter
Max. Bending Angle: 90 Degrees
Max. Hydraulic Pressure: 570 Bar
Motor: 230 Volt Electric Motor
Weight: 5.3kgs (Head), 11.5 (Body)
Dimensions (L) x (W) x (H): 193 x 90 x 110mm
Made In Italy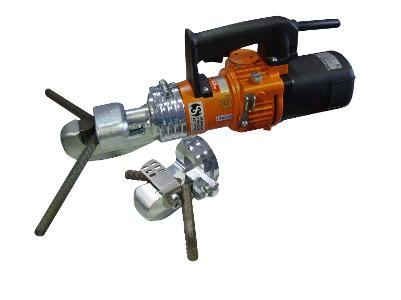 P26 Bending Head/MU26N Electric Body
(Features an Interchangeable Head System)
Specifications;
Max. Bending Capacity: 26mm Diameter
Max. Bending Angle: 90 Degrees
Max. Hydraulic Pressure: 570 Bar
Motor: 230 Volt Electric Motor
Weight: 7.6kgs (Head), 13.3kgs (Body)
Dimensions (L) x (W) x (H): 225 x 135 x 135mm
Made In Italy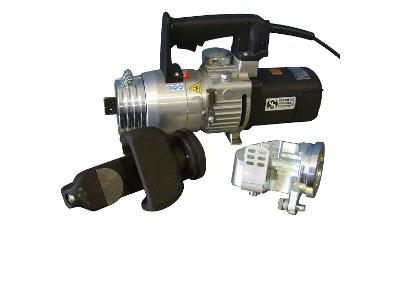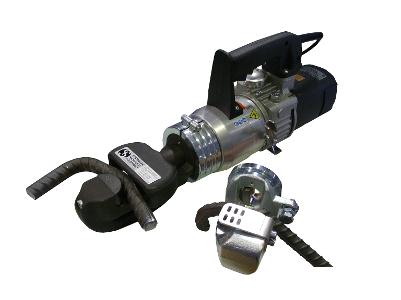 P22 Bending Head/TPS 22N Petrol Body
(Features an Interchangeable Head System)
Specifications;
Max. Bending Capacity: 22mm Diameter
Max. Bending Angle: 90 Degrees
Max. Hydraulic Pressure: 570 Bar
Motor: 2-Stroke Honda Petrol Motor
Weight: 5.3kgs (Heads), 15kgs (Petrol Body)
Dimensions (L) x (W) x (H): 440 x 285 x 265mm
Made In Italy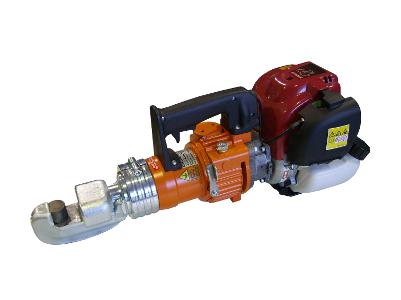 P26 Bending Head/TPS 26N Petrol Body
(Features an Interchangeable Head System)
Specifications;
Max. Bending Capacity: 26mm Diameter
Max. Bending Angle: 90 Degrees
Max. Hydraulic Pressure: 570 Bar
Motor: 2-Stroke Honda Petrol Motor
Weight: 7.6kgs (Heads), 15.2kgs (Petrol Body)
Dimensions (L) x (W) x (H): 460 x 285 x 265mm
Made In Italy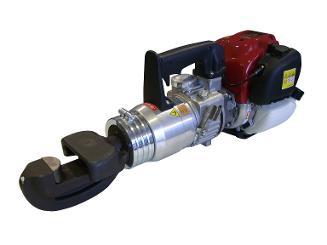 TPR26 Radius Bending Head/MU26N Body
(Features an Interchangeable Head System)
Specifications;
Max. Bending Capacity: 26mm Diameter
Max. Hydraulic Pressure: 570 Bar
Motor: 230 Volt / 50Hz Electric Motor
Weight: 15.2kgs (Head), 13.3kgs (Body)
Dimensions (L) x (W) x (H): 220 x 290 x 130mm
Made In Italy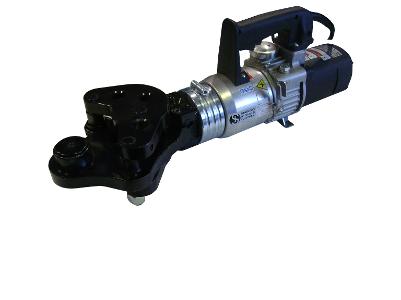 TR40 Straightening Head/MU22N Body
(Features an Interchangeable Head System)
Specifications;
Max. Straightening Capacity: 30mm Diameter
Max. Hydraulic Pressure:
Motor: 230 Volt / 50Hz Electric Motor
Weight: 4.5kgs (Head), 11.5kgs (Body)
Dimensions (L) x (W) x (H): 270 x 150 x 90mm
Made In Italy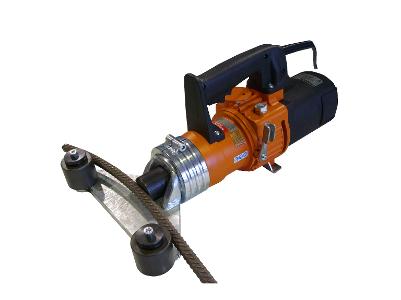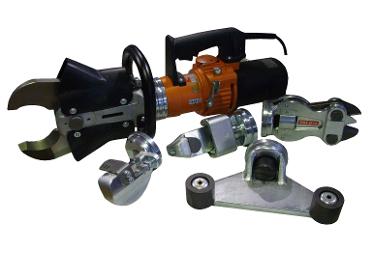 Other Interchangeable Heads are Available per Customers Request
TR40 Straightening Head/TPS22N Petrol Body
Features;
Max. Straightening Capacity: 30mm Diameter
Max. Hydraulic Pressure:
Motor: 2-Stroke Honda Petrol Motor
Weight: 4.5kgs (Head), 15kgs (Petrol Body)
Made In Italy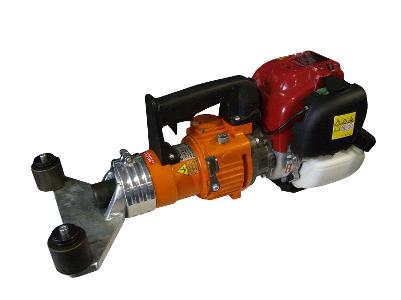 RD8-20 Cordless Rebar Straightener
Features;
Max. Straightening Capacity: 20mm Diameter
Max. Hydraulic Pressure: 200 Bar
Max. Straightening Force: 8 Ton
Motor: 18V DeWalt Battery & Motor
Weight: 8kgs
Made In Italy


RD8-20 Hydraulic Rebar Straightener
Features;
Max. Straightening Capacity: 20mm Diameter
Max. Hydraulic Pressure: 380 Bar
Max. Straightening Force: 5 Ton
Weight: 9.4kgs
Ideally used with Edilgrappa's hydraulic pump range.
Made In Italy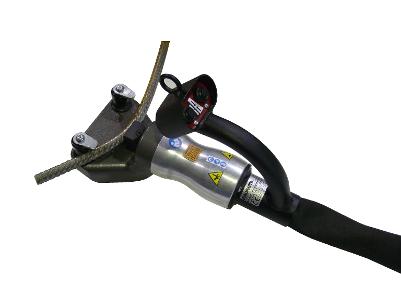 © Copyright 2020 - Stainelec Hydraulic Equipment
All Logos & Images Remain the Property of Their Respective Owners