ADVANCED TABLE REBAR BENDER & CUTTER FOR ANY INDUSTRIAL SETTING...
Feal Seam is an advanced rebar machinery company located in Italy, where they design and manufacture high quality rebar bending & cutting equipment for the global construction and mining industry.
These tools are used around the world in high production factory and remote on-site environments for the construction and rebar manufacturing industries.

Feal Seam Model 1746 Table Rebar Cutter & Bender
This table rebar cutter & bender is capable of cutting 32mm (650 Grade) & 30mm (850 Grade) rebar and bending 38mm (650 Grade) & 36mm (850 Grade) rebar with ease.

This unit is suitable for carrying out work on construction sites where a rebar production machine is required, or for high production cutting and bending applications in fabrication workshops.
Model 1746 Rebar Bender/Cutter Features;
Gear box and cutting unit enbloc in spheroidal cast iron
2 long saddles with holes for double bend
Gears and pinions in hardened steel operate in oil bath
Control board IP54 water proof
6 Programmable Bending Angles (Digital Control Board)
Protection fuses and overload relay for motor protection
Manual control with push-buttons or remote foot pedal
4 wheels for easier movement & placement on site
Designed & precision manufactured in Italy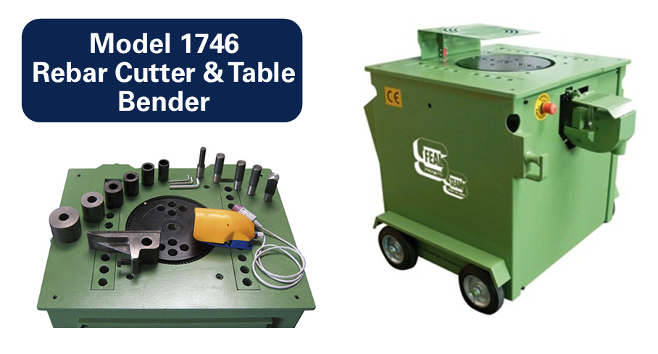 © Copyright 2020 - Stainelec Hydraulic Equipment
All Logos & Images Remain the Property of Their Respective Owners