Precision tools for auto extrication & urban disaster operations...
Stainelec Rescue Equipment introduces a premium specialised range of rescue cutters and spreaders from Ogura & Edilgrappa. These cordless & electric powered rescue tools are ideal for urban emergency rescue, remote rescue, forcible entry, auto extrication, collapsed rescue, protestor release and confined space rescue.
These units are designed for easy operation. All cordless models do not require an auxiliary power source as they are powered by the self-contained motor and battery on each tool body.
BC-300 Cordless Rescue Spreader & Cutter
Features;
Battery; Makita Li-Ion 18 Volt
Weight (Including Battery): 13.8Kg
Maximum Spreading Distance: 300mm
Maximum Spreading Force (188mm from the tips): 135.3kN (13.8 Tonnes)
Maximum Spreading Force (at the tips):51.0kN (5.2 Tonnes)
Maximum Cutting (opening): 205mm
Maximum Cutting Force (in the notch): 313.8kN (32.0 Tonnes)
Maximum Cutting Force (at the centre): 115.7kN (11.8 Tonnes)
Maximum Squeezing Force (at the tips):52.0kN (5.3 Tonnes)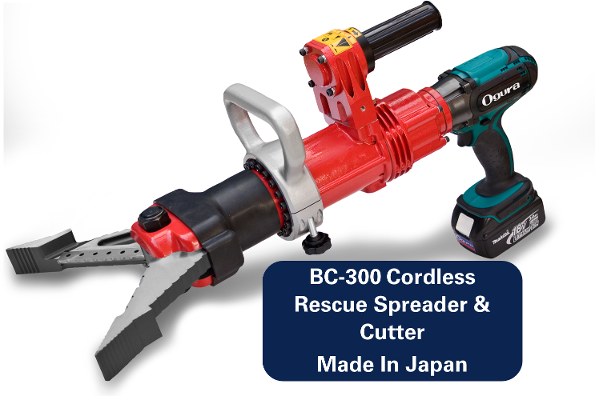 MCT-250 Manual Hydraulic Rescue Spreader & Cutter
The MCT-250 is perfect for remote rapid response scenarios thanks to its high output manual hydraulic system and lightweight portable design. This tool is designed & precision manufactured in Japan.
Features;
Lightweight & portable design
Easily replaceable spreading jaws
Can be deployed in places where intense water or flammable chemicals/gases may be present.
Maximum spreading distance; 254mm
Maximum spreading force; 12.6 Ton
Maximum cutting force; 15 Ton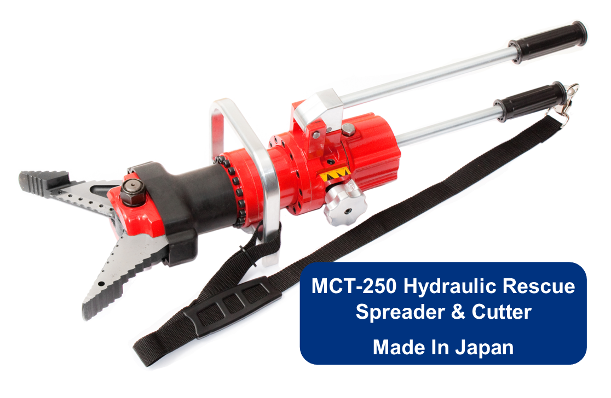 MDC300 Cordless Rescue Cutter & Spreader
Features;
Maximum Blade Opening: 300mm
Battery Operating Life: 1.2 Hours
Maximum Operating Force: Cutting Force - 19.3 Tonnes, Spreading Force - 10.1 Tonnes & Squeezing Force - 3.7 Tonnes
Weight: 10.3Kgs
Dimensions L x W x H: 690 x 240 x 360mm
Standard Accessories: Heavy Duty Carry Case
Hydraulic Pressure Output: 7 Ton / 550 Bar Pressure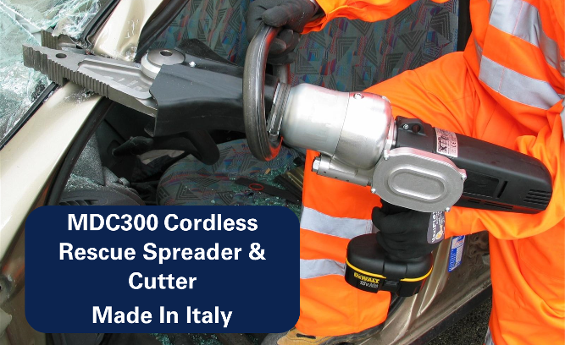 MDC370 Hydraulic Rescue Cutter & Spreader
Features;
Maximum Blade Opening: 370mm Maximum Opening
Maximum Operating Force: 20 Tonnes
Weight: 16.5Kgs
Dimensions L x W x H: 600 x 500 x 180mm
Standard Accessories: Heavy Duty Carry Case
Hydraulic Pressure Output: 700 Bar Pressure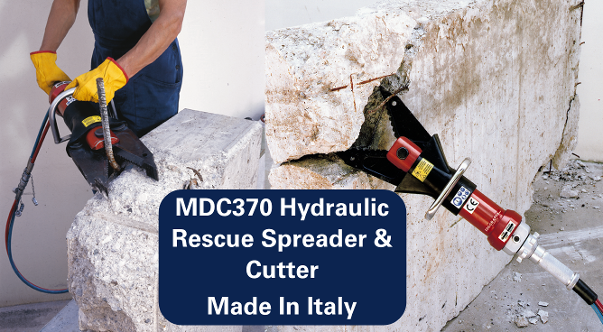 L-570 Cordless Rescue Spreader
Features;
Max. Lifting Force: 22 Ton
Max. Output Pressure: 700 Bar
Max. Cylinder Extension: 570mm High
Motor: 36 Volt Li-Ion DeWalt Battery
Weight: 17Kgs (Including Battery)
Dimensions (L) x (W) x (H): 490 x 120 x 290mm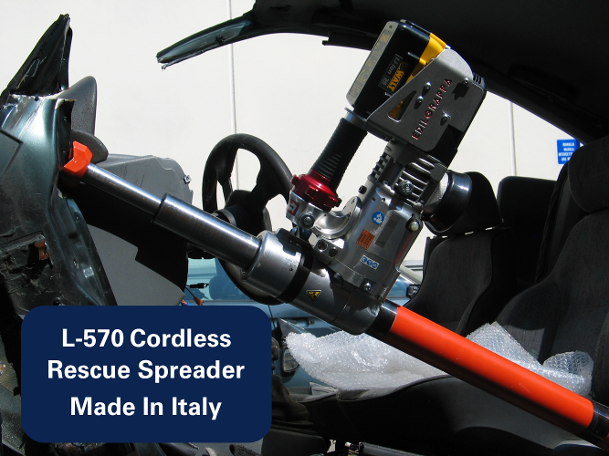 © Copyright 2020 - Stainelec Hydraulic Equipment
All Logos & Images Remain the Property of Their Respective Owners