Engineered & precision made for all your rebar cutting needs...
Stainelec Hydraulic Equipment are the Australian Agents for Ogura rebar cutting equipment. These precision rebar cutters have been designed for professionals that require to cut high tensile rebar with ease in any given environment, including remote on-site & factory based applications.
The Ogura range of hydraulic bar cutters are extremely reliable, powerful and easy to use. These tools are extensively used in the construction, rebar manufacturing & concreting industry for both domestic & international markets. These precision made tools are designed & manufactured in Japan.
HCC-13DF Cordless Rebar Cutter
Features;
Cutting Capacity: 13mm Diameter Steel Rebar
Cutting Speed: 2.5 Seconds
Motor: Makita 18 Volt Rechargeable Li-Ion Battery & Motor
Dimensions: 331 x 262 x 99mm
Weight: 4.7 Kgs
Made In Japan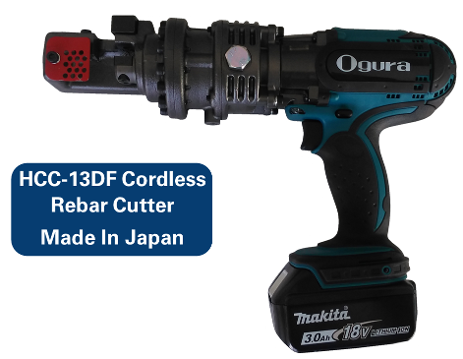 ORC-16DF Cordless Rebar Cutter
Features;
Cutting Capacity: 16mm Diameter Rebar
Cutting Speed: 2.6 Seconds
Motor: Makita 18 Volt Li-Ion Battery & Motor
Weight: 7Kgs
Dimensions: 360 x 276 x 108mm
Made In Japan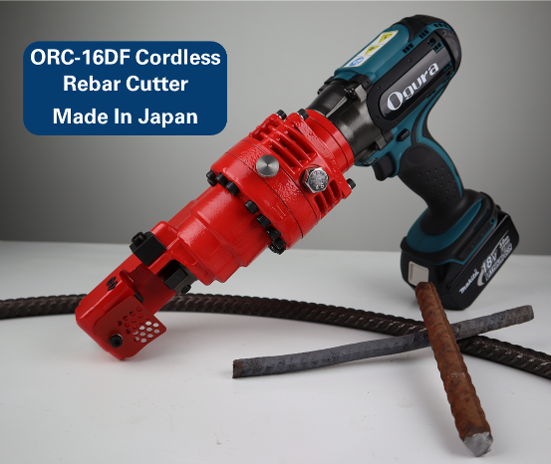 ORC-19DF Cordless Rebar Cutter
Features;
Cutting Capacity: 20mm Diameter Rebar
Cutting Speed: 4.5 Seconds
Motor: Makita 18 Volt Li-Ion Battery & Motor
Weight: 11Kgs
Dimensions: 387 x 301 x 132mm
Made In Japan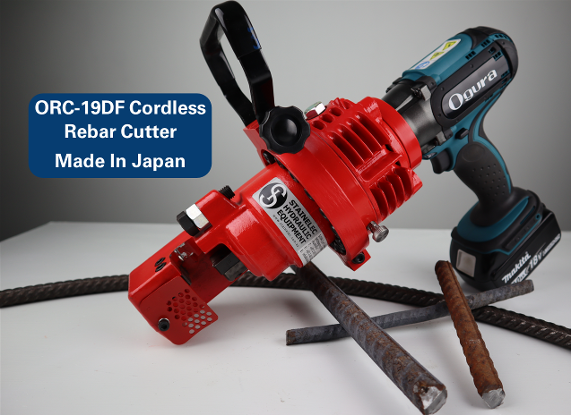 HBC-313 Electric Rebar Cutter
Features;
Cutting Capacity: 13mm Diameter Rebar
Cutting Speed: 1.6 Seconds
Motor: 230 Volt Electric Makita Motor
Weight: 7.1kgs
Made In Japan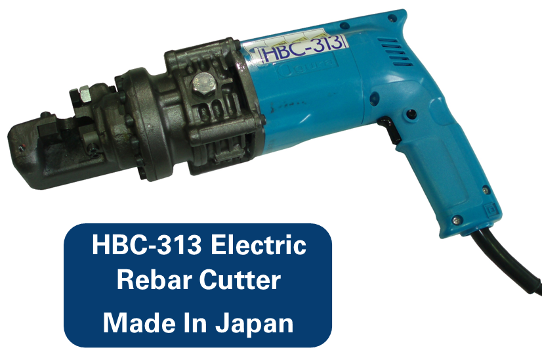 HBC-316 Electric Rebar Cutter
Features;
Cutting Capacity: 16mm Diameter Rebar
Cutting Speed: 1.6 Seconds
Motor: 230 Volt Electric Makita Motor
Weight: 8kgs
Made In Japan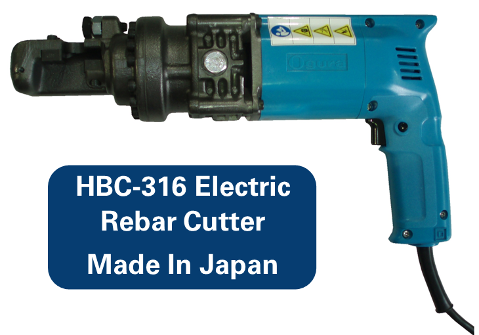 HBC-613 Electric Rebar Cutter
Features;
Cutting Capacity: 13mm Diameter Rebar
Cutting Speed: 2 Seconds
Motor: 230 Volt Makita Electric Motor
Weight: 7kgs
Made In Japan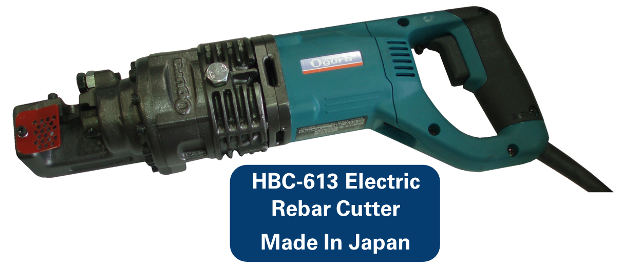 HBC-816 Electric Rebar Cutter
Features;
Cutting Capacity: 16mm Diameter Rebar
Cutting Speed: 2.8 Seconds
Motor: 230 Volt/50Hz Electric Makita Motor
Weight: 8.8kgs
Dimensions: 492 x 165 x 120mm
Made In Japan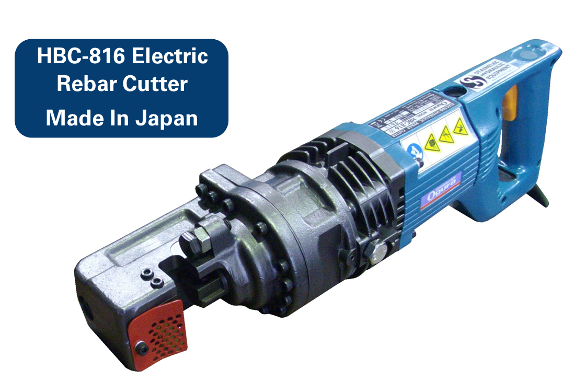 HBC-520 Electric Rebar Cutter
Features;
Cutting Capacity: 20mm Diameter Rebar
Cutting Speed: 2.5 Seconds
Motor: 230 Volt Electric Makita Motor
Weight: 12.2kgs
Dimensions : 396 x 112 x 220mm
Made In Japan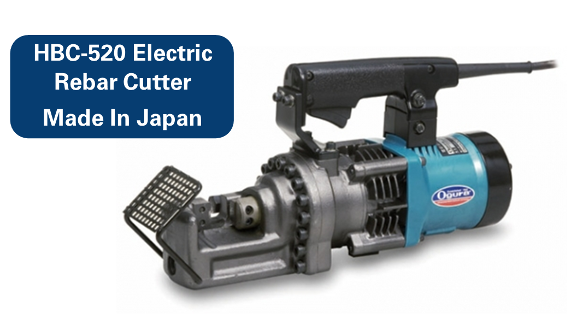 HBC-225 Electric Rebar Cutter
Features;
Cutting Capacity: 26mm Diameter Rebar
Cutting Speed: 3.5 Seconds
Motor: 230 Volt Electric Makita Motor
Weight: 22Kgs
Dimensions: 480 x 138 x 268mm
Made In Japan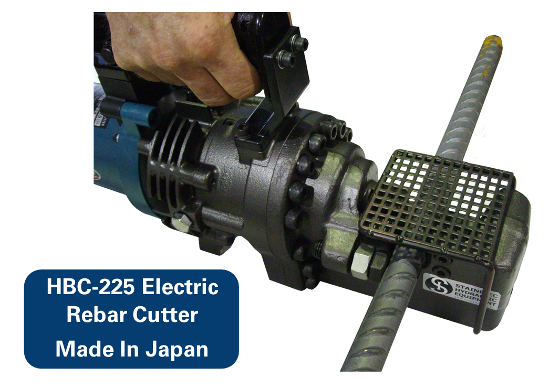 HBC-232 Electric Rebar Cutter
Features;
Cutting Capacity: 32mm Diameter Rebar
Cutting Speed: 7 Seconds
Motor: 230 Volt Electric Makita Motor
Weight: 37kgs
Dimensions : 543 x 167 x 289mm
Made In Japan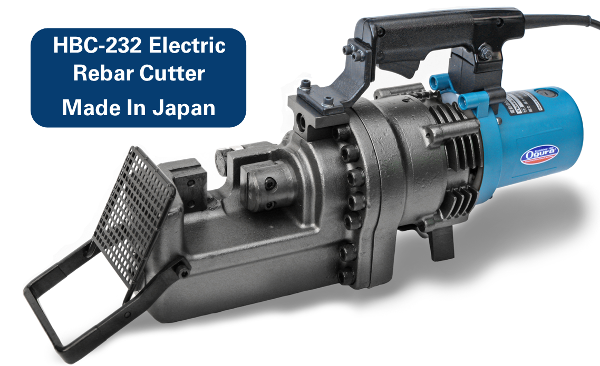 © Copyright 2020 - Stainelec Hydraulic Equipment
All Logos & Images Remain the Property of Their Respective Owners